You may remember Sahar, an
Iranian Christian now living in Turkey
. She was forced to flee after she was arrested. The Iranian authorities told Sahar that if she didn't stop her church activities, she would be sent to prison to serve a long sentence. In
Iran
, this threat isn't idle—it's a constant risk for any Christian who converts from Islam.
She and her family fled. But Sahar has continued growing in her faith, sharing it with other women like her—new Christians who converted from Islam.
In her new church, Sahar is in charge of the women's ministry. She conducts prayer meetings, does some counselling and teaches the Word of God. She shares the good news with mostly women from Afghanistan and Iran, both online and face to face. When these women accept Christ, she follows up with them in discipleship. Recently, and with the help of the church's media team, Sahar has even filmed and released videos to share the gospel to a wider audience! Of course, not everyone who listens, believes. But even for those who do not directly accept Jesus, Sahar stays in touch with them, prays for them and counsels them. Many of these women are in even more difficult situations than she once was. "I do whatever I can," she says. "I am by their side, I pray with them, consult and comfort them."
It's especially important for Sahar to help women see and understand their value in Christ. "When we look at the history of Iran, we see that this Islamic regime had the largest and deepest negative effect on women," she explains. "They stole many things from us: our identity, our social state, our peace, and we were left with a lot of scars just because of how women are defined in Islam."
She even sees God's hand in the recent protests in Iran that saw thousands of women protesting their treatment by the Iranian regime. "God worked very beautifully in these protests and we could see the awareness and awakening in Iranian women more than ever!" Sahar says. "After all those years of darkness when women were lost, now they found themselves. They fight for themselves, their beloved ones and their rights.
"This fruitful revival is the result of God's work... With faith, I am waiting for God's victory."

Sahar
"This fruitful revival is the result of God's work, and I believe that whenever God begins a work, He finishes it Himself. And I know that God is bringing His people in; the number of women coming to Christ is more than men in Iran today and these faithful women will raise their kids and lead their families in the right direction. With faith, I am waiting for God's victory."
Finding her calling
Sahar's life now is an answer to prayer and proof that God is faithful to His promises. "I clearly remember when God called me and told me that He wants to use me among nations!" she shares, smiling. "My response was, 'God, I am just a woman, how can it be?' But now, after 18 years, I look back and see how God transformed my life and is using it according to His purposes and promises. What God has done in me is very valuable to me!"
"Seeing that God is using me to bless others is very precious to me."

Sahar
This kind of calling makes even the hard days worth it. "A few days ago, I woke up fighting negative thoughts of hopelessness," Sahar says. "I was on my way to church when I suddenly remembered where I'm at now—and how God found me and performed numerous miracles in my life. Once more, I thought of all the good works God has done and is doing in my life, and I decided to write all those things down. As I wrote about my life and how God is using me in other people's lives, I could see the impact of my ministry. It wasn't me, Sahar, but the Holy Spirit in me who inspires other women in my church, my city, my country and beyond. Seeing that God is using me to bless others is very precious to me."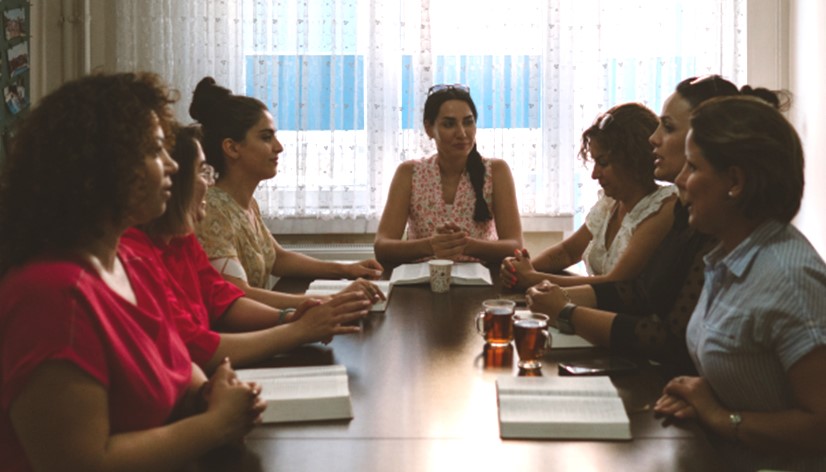 Facing challenges
That's not to say that everything is easy for her or her family in Turkey. For Iranian refugees, life in Turkey can be hard—they are usually unable to work or attend school, and face difficulties just making ends meet. Plus, the people she's reaching often live lives of pressure even apart from following Jesus.
"Christian women and girls have a lot of needs; they need to be heard, they need prayer, they need to feel loved, they need counseling, teaching and resources," Sahar explains. "I want to do as much as I can. God gave me a vision, and I am pursuing it. However, challenges are inevitable; the location I am at, the limitations, the difficulties, the concerns I have as a mother make life and ministry much harder for me. 2023 has been filled with spiritual battles, and I am under a lot of pressure.
"Listening to the stories of pain, persecution and difficulties that women in Iran and Afghanistan go through every day [is very heavy]."

Sahar
"Listening to the stories of pain, persecution and difficulties that women in Iran and Afghanistan go through every day [is very heavy]. Sometimes, this becomes too overwhelming. I believe they call this 'secondary trauma,' but God continues to recover me daily, and this is how I am able to continue doing what I do."
Life for Sahar has also become more difficult, with a high inflation rate in Turkey and the aftermath of the February 2023 earthquakes. Additionally, she manages the day-to-day of being a mother to two children. It can add up to an unsustainable level. "A month ago, I felt like all this pressure had become unbearable," she says. "I was about to give up, so I decided to seek some counseling and help. My counselors encouraged me to put everything in God's hands and surrender to Him. They also advised me to take some time off to rest and refresh."
Prayer Requests
Sahar asks us to
pray for all the refugees in Turkey and the difficulties they are going through
.
"It is not only about me, there are thousands, if not millions of people like me in this country," she says. "Inflation is crazy these days, house rental prices have ridiculously gone up, also hospitalization and medications are very expensive as we refugees do not have insurance.
She also wants prayer for herself and her family as she walks a difficult road while she serves God.
"Please
pray that God would open new doors for ministry and would lighten my burdens as I learn to surrender to Him
, so I can focus on serving him with a peaceful heart and mind. And please
pray for my family and specifically my two sons
, for their life and future, and that God would protect and bless them. Pray for my home country, Iran. May God's will be done!"
You can give now to support Open Doors partners in Syria and Turkey as they support people impacted by the earthquakes. Your gift can help provide long-term support as the community seeks to rebuild and restore their lives.

*When the projects have been fully funded, your donation will go to where most needed.
Give now