It has been three years since we last told you about Apo and his mother Jina. Apo lost his father Rober when he was kidnapped in March 2013 by unknown men while on his way to work. He and another Christian man were intentionally taken from the bus by the kidnappers. The other man was later freed after a ransom was paid.
That man said to Jina, "The thing is that they told Rober to convert to Islam time after time. But Rober refused and said: I have my God and that's it.'" He did not think that Rober would survive his kidnapping. In all these years, there has been no news about Rober so he is officially declared dead and missing by the authorities.
Apo was only one year old when his father went missing. In the past three years, since the time we met Apo and Jina for the first time, the young boy hasn't lost his energy.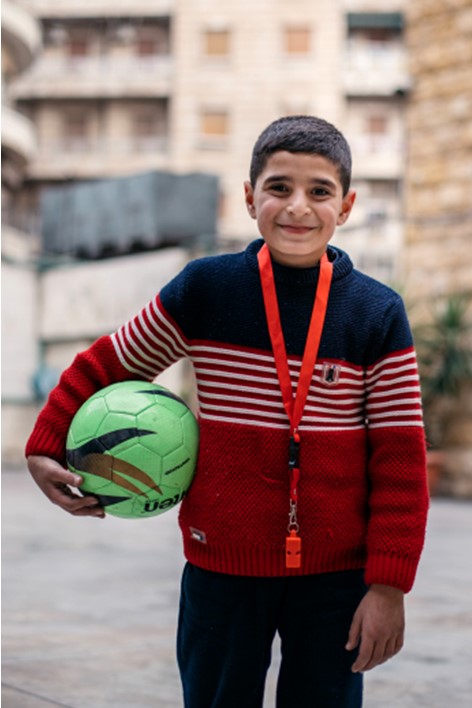 "I play basketball and sometimes the coach trains me and we play against another team. I also have swimming class and play football."
With the upcoming FIFA World Cup, he will be paying attention to one particular footballer. "I love Mbappé of the French team and of Paris Saint-Germain." He then demonstrates how Mbappé recently scored a goal.
Back in the schoolyard with his ball, the laughter of Apo and his schoolmates is touching. These children all grew up during wartime and don't know the Syria from before that terrible crisis. They've seen terrible things happen around them or even to their own families, like Apo did.
A dream come true for Jina
Apo and his mother continue to go to the Center of Hope at Alliance Church in Aleppo. This church also helped to arrange a manicure training for Jina, so that she can support her family without her husband.
Jina has begun as a trainee at a beauty salon. "I started with the nails as a trainee. I love this. After that, we move to the eyebrows. I want to develop my skills to make this an income source. Nowadays everything is expensive. I hope me and my son can live decently. I dream to start my own project. God gave me an opportunity and he helps me."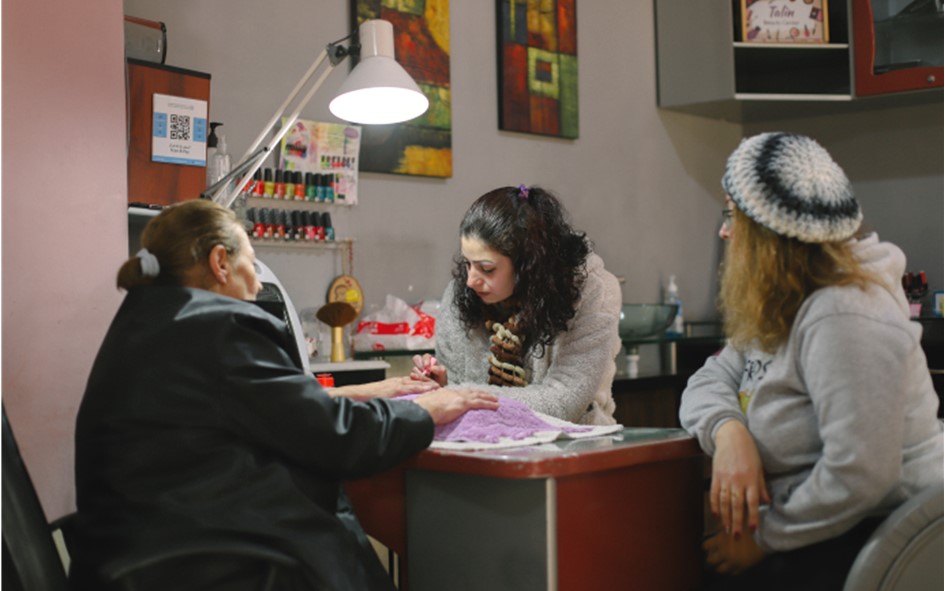 Jina (centre) working in the beauty salon with her trainer (right) watching
"Mom you should go to work"
Before Jina started this traineeship God spoke to Apo in a dream to push Jina to start working. One morning Apo said: "Mom, I saw Jesus." Of course, Jina asked Apo more about the dream.
"Jesus asked me to be a good son to you and not to give you a hard time. And to be good in my school. Mom you should go work. I will listen to what you say and be a good son to you, I am okay with whatever you want."
True to his word, Apo became a kind and obedient boy. Before, he was different. "He used to give me a hard time. When I corrected him, he used to say 'I don't listen to you'."
Jina is optimistic about the future. "If I continue this path, my future is good, my income will be good. I thank you who supported me from the bottom of my heart. I pray that God will bless you and will open new doors for you to continue to help us in Syria. We need your support. How would a widow live without it?"
That Jina will finish her training successfully in the beauty salon and will be able to indeed have a decent life with her income
That Apo will continue to be a kind and obedient boy, and that he will do well in school
Pray for children like Apo who grow up in persecution and lost so much in the Syrian war
A GIFT FOR A PERSECUTED CHILD
Every HK$200 could provide a month's education to a child impacted by persecution
Every HK$530 could support a child at the Colombia Children's Centre, giving safety, education and a future
Every HK$720 could give Bibles to ten children, so they can know Jesus through Scripture.
MY GIFT TO CHILDREN