When people think about the Arabian Peninsula, they probably think of oil. After all, the region has the largest oil reserves in the world. And yet, oil might be the second most-important liquid on the Peninsula.
The first is something every human being needs to survive.
Water.
Much of the Arabian Peninsula is covered by desert. Sand, dirt and dust swirl around the highways that crisscross the landscape, and the horizon is dotted with giant de-salination plants that convert sea water to drinkable water. Water is the key to keeping the region flourishing, and the key to making sure places like Abu Dhabi, Doha, Riyadh and Dubai remain destinations for businesses and tourists.
The desert is also a good metaphor for the religious realities of the Arabian Peninsula. Here, in the home of Islam, there are so many people thirsty for meaning. And God is at work, bringing people to Jesus. These people are the future of the church here. People like Nadia*.
A lifelong search for truth
If her faith in Jesus was discovered, it could have devastating consequences for Nadia. As she speaks, her words are considered and confident—this is a woman who has been through trials but who knows what she believes and how to talk about it. It's a knowledge that came from a lifetime of asking questions people weren't interested in answering. "Since I was very young, from the moment I conceptualized the idea of God, I've been seeking ever since," she says. "God, and the search for truth was one of the main parts of my life." So, she began to search.
But in the Arabian Peninsula, such a journey isn't something that's easy or safe. "There were actual, real repercussions when asking [spiritual] questions," Nadia remembers. "There's one example when I was seven years old, I was at school and there was an interesting subject regarding free will. And I asked a very challenging question to the teacher, and instead of encouraging me, I got in trouble. My mother, to keep things peaceful and safe for me, I remember her telling me, 'Don't ask questions, just do what you have to do, just finish school and that's what you need to do.'"
Nadia's search led her away from Islam. And yet, as she sought, her personal life was falling apart. She'd become estranged from her family, and they emotionally abused her and cut her off. She went months without talking to either of her parents. She found herself at her lowest point, wondering why her new beliefs hadn't given her meaning.
That's when she found Jesus.
A low point—and a Savior
"Just before finding Jesus, it was the lowest moment of my life, and looking back at all the difficult situations that I found myself in, I knew that that was the worst moment of my life," Nadia remembers. "I felt like there was no hope, and it had already been about a year since I was very angry at God, very angry at Him. There was a lot of anger and I just stopped talking to Him."
But as she looks back at her life, Nadia sees that Jesus was pursuing her long before she knew who He really is. "I've known who Jesus was since I was a child," she says. "I have family on one side of my parents who are believers, so it wasn't really a foreign concept for me. I knew who Jesus was, but there were a lot of gaps in understanding various stories about the Bible, and I had no idea what the gospel was really.
"So, as I look back, He was pursuing me ever since I was very young. And I had many dreams of Him coming to me and speaking to me or showing me certain symbols that I understood later on."
"As I look back, He was pursuing me ever since I was very young."

Nadia
When Nadia gets to this part of her story, it's clear she has a hard time putting it into words. All she knows is that, somehow, Jesus pursued her and eventually she realized He was the one she wanted to follow.
"The change that happened for me in actually knowing who Jesus was really is not something that I did," she says. "It was Jesus Himself, because Jesus knows each and every one of us, and He knows what's in our hearts, and He knows what each individual needs uniquely in their life or in that moment, or how He is going to reveal himself."
The way Jesus reached Nadia accompanied that time of her life when she felt at her very lowest. "A big part of that unblocking of my mind was really connected to my father and his passing," Nadia remembers. "I hadn't seen my father in years, and it was a difficult situation. We were in contact, but we were apart."
But when her father died, Nadia finally felt what she'd been longing for: a God who loved her unconditionally. "That's when I really knew that Jesus was standing there next to me, even though I couldn't see Him," she remembers. "It was the strangest most awesome feeling, but I knew it even though I couldn't see it."
This was the moment that changed everything for Nadia, the moment when all of her searching finally found an answer. "There was a peace there, and I knew that I wasn't alone," she says. "I have been alone for so long. I felt very abandoned and having to fend for myself and survive for years, and that was the first time that I felt there was a Father who had adopted me.
"What does Jesus mean to me? He means everything."

Nadia
"What does Jesus mean to me? He means everything. He just changed my life in ways that I have never experienced in any other belief. I don't even know who I was seeking. He has changed my life in a way that I know nothing else could have changed and I will be eternally grateful. It's hard to explain in words, honestly. That's how much I feel that it's so powerful. Because if you really can say the words, you kind of trivialize it a little bit."
'The risks are very real'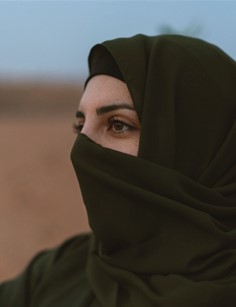 Of course, just because Nadia had found Jesus didn't mean her walk with Him would be an easy one. He'd miraculously rescued her from her lowest point, but she is still a believer trying to walk with Christ in the Arabian Peninsula, where Christianity is largely suppressed, and believers are persecuted.
For instance, trying to find a church is extremely hard for new believers. "It's very challenging to find a church and other believers," Nadia notes. "One of the main reasons is fear; obviously there's mistrust. One could be afraid that they're talking to someone who's not a believer, but they're posing as one."
"The risks are very real. Not just for the individual, but also for the extended family."

Nadia
The danger is real for believers in the region, particularly those who have left Islam for Jesus. While Nadia's family wasn't as tied to Islam, she sees this reality in daily life for other believers. "Life for a believer who has left Islam in a predominantly Muslim country is not easy," she says. "The risks are very real. Not just for the individual, but also for the extended family. There is this idea, culturally, that you are guilty by association. So, if one family member does something, then it is a shameful thing for the whole family. There is this shame mindset that is very predominant in the Arab culture. That's one of the reasons why it's risky."
But after years of isolation and loneliness, Nadia felt true belonging the first time she was able to worship and pray with other Christians from the Arabian Peninsula. "The first time I met other believers, real born-again believers, it was a wonderful experience," she says. "I had prayed for that for a long time, to really be able to connect to people who understand what I feel and be able to talk to them and see that they have the same spirit that I have, and rejoice in that joy. It was one of the most wonderful experiences. It was very overwhelming."
'It's creating a bridge'
Now, Nadia sees how God is using her past and preparing her to help lead His people in the Arabian Peninsula. Nadia knows what it's like to live in a spiritual desert—and now, she knows what it's like to find the Living Water of Jesus. She wants to share that with others.
"As the Lord raises up the church in the Middle East, I see a lot of prayer warriors and deliverance ministries rising up to open the eyes of people and see that we are not wrestling against flesh and blood, but against powers and rulers and principalities of darkness in high places," Nadia says. "And that could be a very powerful tool to use, to raise these various churches and ministries around the region."
Nadia hopes God continues to deepen her faith and prepare her to be someone who shows the power of the gospel to others in her part of the world. "My hope of how God wants to use me is that, first of all, to remain focused and humble and have the ability to really hear Him properly," Nadia says. "Being a leader, there's such a sense of responsibility; my hope is that I keep really learning what it means to follow Him so I can lead others, or be that example as much as possible. I'm observing and I'm looking at people the way they're behaving, to be that example to other people."
Open Doors partners have worked with Nadia to disciple her and help her grow in faith—and to begin to share her depth of faith with others across the region. And Nadia reminds us that anyone can join in her journey through prayer. "The idea of so many people around the world praying for me and for the people of the area really gives hope as to how connected we are as the Church of Christ, as the body of Christ," she says. "The way I see it, it's creating a bridge. It may not be physical, but a spiritual bridge of the spirit working through the church. And I think the more people in this area of the Middle East know this, the more encouraged they'll feel that they're not by themselves—that there are people who are praying for them."