When Pastor Jean's church was attacked by ADF militants, he and his family suffered emotional and psychological trauma. Pastor Jean felt he had to hide it from the congregation – but thanks to your prayers and support, he and his family are beginning to heal.
When Pastor Jean was transferred to his new church, he was full of hope. He arrived at Beni – a city in the north east of the Democratic Republic of Congo (DRC) – to lead a church of almost 280 people.
There were challenges, of course. For five years, the area had suffered from attacks by an Islamic extremist rebel group, the Allied Democratic Forces (ADF), but he believed God would protect him. "We told ourselves that God will help us." It was an exciting time and he had big plans.
Then the ADF arrived.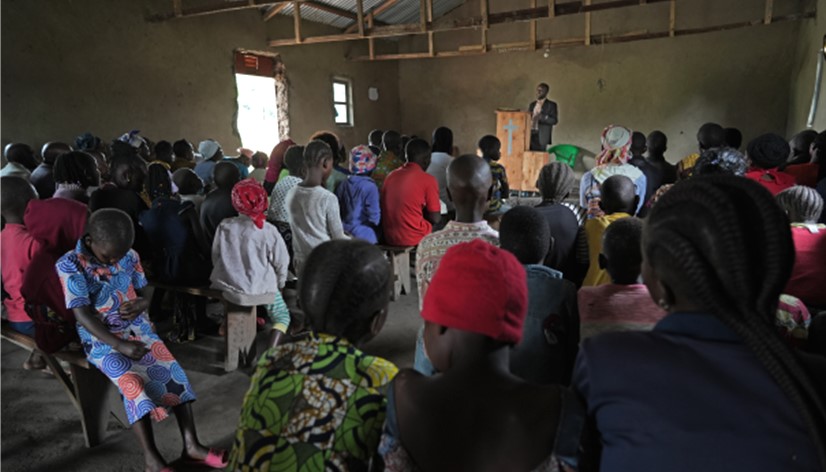 Pastor Jean preaching in church
Gunmen attack Pastor Jean's house
"At around 11p.m. we heard the first gunshot," Pastor Jean recalls. "It was right behind us, and I told my wife that we were being attacked."
It was a terrifying ordeal. From their house in the church compound, they could hear screams and incessant gunfire as the attackers made their way through the village. Then Pastor Jean heard the militants right outside his door. It was clear that they intended to kidnap him. "They started arguing amongst themselves to know whether I was inside or not," he recalls. "We prayed... 'God help us.'"
Although around 95% of the population of the DRC are Christian, in the eastern areas, Islamic extremist groups like the ADF openly target Christian homes and churches.
The attackers tried the door but failed to break in. On the other side, Pastor Jean heard them discuss their plans. Then he heard them step back. There was the sound of a rocket grenade being launched, an explosion and then everything went black.
"We lost consciousness for about 45 minutes," he remembers. "Lying there like we were already dead." When dawn came, Pastor Jean went outside to find that fifteen people had been killed, six from his church. Houses and shops had been destroyed and at least 20 people – mainly young girls – were missing.
Hiding the trauma – and healing from it
Mercifully, Pastor Jean and his family had no wounds. But the emotional and psychological pain ran deep. "We were traumatised," he says. "Our health was destroyed." He tried to be strong: "If I showed my congregants that I was traumatised it would be difficult to help them because they would be disappointed," he said. But it was too hard. He could no longer preach.
"Even at the funerals, I could not participate because I myself needed help. I had to call on another helper because I had no strength."
"even if we are persecuted, our tears will be wiped. That is why I have hope."

Pastor Jean
Healing from trauma takes a long time. But, with the right help and support, restoration is possible. Pastor Jean and his family have been helped to relocate to a safer area, where, little by little, God is restoring them. Open Doors partners have provided money to help them start a small business, and he draws strength from knowing that others are praying for him and has been able to start leading a congregation again. And, crucially, he has found some of that hope which he thought he'd lost.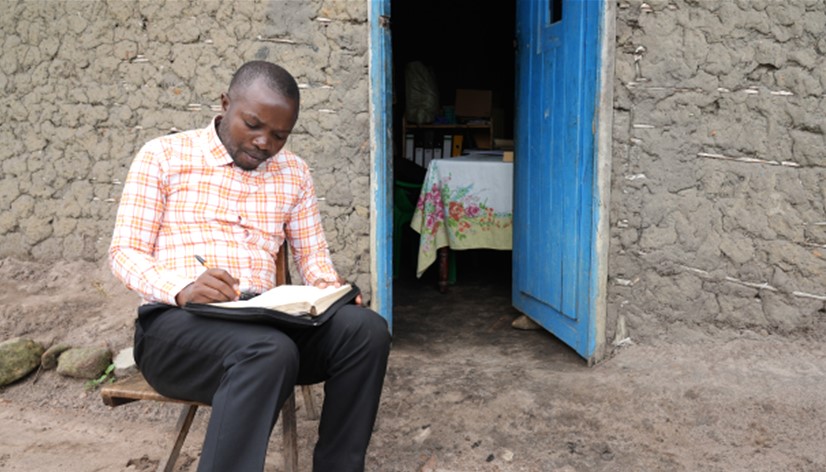 "The Bible tells us not to be afraid because God is with us," he says. "That is my consolation, and I often say it in church: even if we are persecuted, our tears will be wiped. That is why I have hope. One day everything will be finished, and we will see Christ."
For all who are grieving to know the power of God's loving care
For the abducted students to safely and quickly return home
For security forces and political decision makers to be granted wisdom in combatting this violence
That ADF militants would, like Paul in Acts, be convicted of the evil of their deeds, repent and choose to follow Christ.

Will you stand as one with Christians in Sub-Saharan Africa?
Every HK$160 could give a month's education to 4 young people from persecuted families, giving them hope for the future.
Every HK$490 could provide food, medicine and other emergency relief to help 2 believers displaced by persecution survive.
Every HK$380 could help 3 Christians who've experienced extreme violence by providing hope and healing at a trauma center.
*When the projects have been fully funded, your donation will go to where most needed.
MY GIFT: AFRICA