Warning: This story contains content that some may find distressing.
In the Democratic Republic of Congo, Islamist extremist groups target Christians in sickening acts of violence. But, despite everything, Christians survive and persevere because of your support. Gertrude* is one of them.
Gertrude lay on the ground, her foot painfully throbbing where two bullets caught her as she ran, and blood seeping from a gunshot wound in her stomach. She lifted her head from the mud and looked back to the field she'd fled.
It was a horrifying scene.
Every HK$490
could provide food, medicine and other emergency relief to help 2 believers displaced by persecution survive.
GIVE TODAY: Africa
Armed men were killing her husband, violently beheading him because of his faith in Jesus, as her three-year-old son looked on. "I lost the remaining strength I had," said Gertrude. "When they killed him, I felt dead too… I lost my mind. My first thought was the children. How would I provide for them?"
Twenty-seven-year-old Gertrude lives in the Democratic Republic of Congo, where violence against Christians is rampant and churches are under attack. In this country, and right across sub-Saharan Africa, our brothers and sisters face extreme persecution.
Gertrude had been working in the fields when men from the Allied Democratic Forces (ADF) burst from the forest and began to attack. "My husband blocked our boy and I crawled into the bush, but they shot my foot and stomach," she recalls.
It was hours before Gertrude crept out. Her son was nowhere to be seen; ADF militants had kidnapped him.
Life for Gertrude became desperately hard. Aside from the grief and sorrow, she's a widow with a limited income, permanent injuries and other children to provide for. Fear, too, is constant. One day, Gertrude heard ADF rebels were nearby so she fled with the children. The next morning, their neighbors were dead. "I can't understand how these people just continue killing," she says.
"It is God alone who gives me strength to bear this pain."

Gertrude
But thanks to your faithful support, Gertrude perseveres. "God saved me from danger, and I have hope that he is present," she said. "It is God alone who gives me strength to bear this pain."
Your gifts meant Open Doors provided Gertrude with financial help to start a small business. She's opened a shop, where villagers can buy everyday items, and she's determined to make it a success. "I thank God for how he has provided through brothers and sisters like you," she smiles.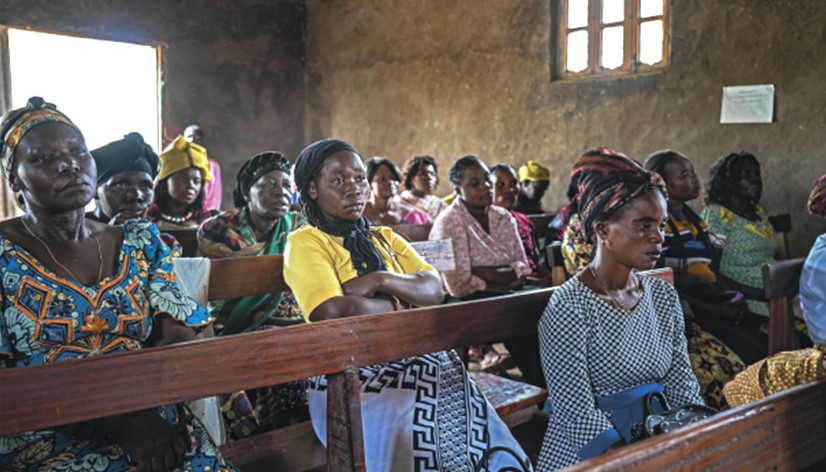 Your prayers, too, mean everything. By uniting with our persecuted brothers and sisters in prayer, you strengthen their resolve and stand up to violent persecution. "Since I was shot and my husband was killed, everything is difficult," said Gertrude. "I ask for your prayers – because that is what sustains me."
*Name changed and representative image used for security reasons
Pray for God's abundant grace over Gertrude as she raises her children alone.
Pray that Gertrude's business will thrive and grow, to give her a good income.
Pray boldly for an end to violence against Christians across sub-Saharan Africa.

Will you stand as one with Christians in Sub-Saharan Africa?
Every HK$160 could give a month's education to 4 young people from persecuted families, giving them hope for the future.
Every HK$490 could provide food, medicine and other emergency relief to help 2 believers displaced by persecution survive.
Every HK$380 could help 3 Christians who've experienced extreme violence by providing hope and healing at a trauma center.
*When the projects have been fully funded, your donation will go to where most needed.
MY GIFT: AFRICA