Last week marks two years since the military coup in Myanmar. It's had a devastating impact on the country's church, with believers killed and churches raided and attacked, and thousands driven from their homes. Here we share the stories of three Christians who, despite facing enormous upheaval and pain, cling to Jesus – helped by your faithful prayers and support.
Ko Aung on the run
The neighbours were suspicious. Ko Aung* (pictured above) arrived back in his hometown at the beginning of the pandemic and soon established relationships with a local community of tribal Christians. He would meet with them, and even help provide medicine for them.
But in the eyes of his neighbours, following the military's occupation of power in February 2021, these relationships made Ko Aung – who came to faith from a Buddhist background – a suspected member of anti-military groups. It's a false accusation facing Christians across Myanmar.
Ko Aung was in danger, particularly as the military had begun targeting male youths by beating them, falsely accusing them, and imprisoning them.
"When the soldiers camped near our villages, I, who was included in the suspect list, dared not live in my home anymore," recalls Ko Aung. "I had to run away from my home and go to some places, hide in the forests. I had to run and hide two or three times."
"One day, when things settle down, I want to be together with my family, to have a meal together"

Ko Aung
The military have stopped at nothing to track Ko Aung down. They have frozen his bank accounts and flagged his identity card. "It means that I am no longer regarded as a citizen of Myanmar," he says. He's unable to stay in one place for long and had to say goodbye to his family, not knowing if he'll ever see them again.
"One day, when things settle down, I want to be together with my family, to have a meal together," he says of his family, who were initially opposed to his faith but have since softened. "I want to watch TV together. I want to hug my siblings. Yes, I miss home."
The pain is huge and the future uncertain, but Ko Aung finds solace in his faith. "Our God is Emmanuel, who is always with us all the time," he says. "When I am in difficult time, He will guide me. He is letting such things happen for the good of everyone.
"Even though I might face such difficulties, sorrow and sadness personally, all the Christian community have suffered. I am taking part in the suffering, a small part of it. I believe He has greater plans for all of us. I just hold on to this belief and continue walking my life."
Esther builds a bomb shelter
With bombs falling nearby, home no longer felt like home. Esther*, together with her husband and five-year-old child, fled in search of safety and stability.
"However, in the new village, our lives became tremendously tough," shares Esther. "Every day, my husband would go to look for a daily-wage job. Sometimes he found work, other times he came back home empty-handed."
"The days he earned, the maximum he brought home was a little more than a dollar," she continues. "Not sufficient at all to get even a day's decent meal."
The family decided to head back home. "We returned and continued living with several other families who, like us, were not able to settle anywhere else," says Esther. "We built bomb shelters to protect us and tried to minimise leaving our homes as much as possible.
"I believe He has made us humbler and dependent on Him through all these circumstances."

Esther
"Even today, the threat of a bomb attack is always looming but at least we earn enough to feed our child and ourselves. My husband is paid three times more for the same kind of work he did in the new place we fled to. I also work to contribute to the household expenses by conducting tuition classes for younger children."
As the bombs continue to fall and daily life remains an arduous struggle, Esther finds refuge in God. "Now that we are back to the warzone, we know we might survive or die in the bombings," she says. "But we do not cease praying to the Lord for protection. I know we are much more secure when we know the Lord. We can pray to Him for protection anytime and He is merciful to have preserved us so far."
But understandably, questions linger. "I have never really spoken it out but sometimes I do question God for this situation," admits Esther. "But I know God has plans. I believe He has made us humbler and dependent on Him through all these circumstances."
Esther adds that she is enormously thankful for the support provided by Open Doors local partners. "I am very thankful to God and Open Doors partners," she says. "Last year we were out of food, and they provided us a packet. They also helped us with livelihood options by providing us with ten piglets, so that I should raise them up, sell them and have some income."
Tun sees God transform hearts
In 2018, the backyard to Tun* and his wife Lhing's* home was a hive of activity, with goats, chickens and pigs shuffling about in the shadow of row upon row of sugarcane. The inside of their home was also often busy, as the couple regularly hosted Bible studies with their neighbours.
Some five years on, the couple and their three children are now refugees. "When the military tankers came in to destroy our town, we knew that they were going to be engaged in the fighting," recalls Tun. "We were scared in our hearts, and we looked for a way to escape."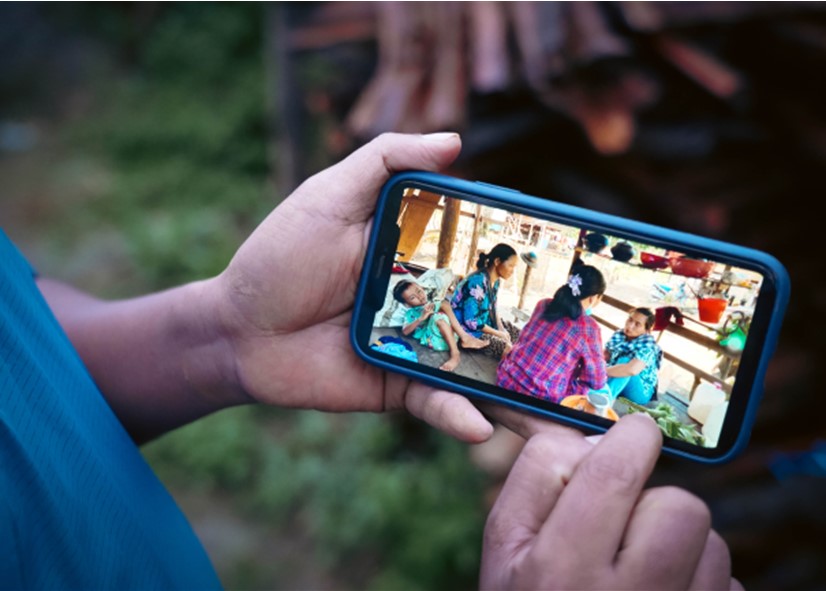 Tun shows a picture of his old backyard
The couple fled in April 2021, taking their children on separate motorbikes. "We only took small, small bags," explains Tun. "We packed one shirt for the daytime and another shirt for nighttime. That's it. If we carry a lot of clothes, bags, and lots of things, the military – those who are waiting in the checkpoints – they won't allow us to go outside of town." The family are staying in a shelter alongside more than 2,000 displaced believers. "All of their livelihoods are gone," Tun says. "They are jobless since the coup and the pandemic. They have already spent their savings, and now they are striving for their daily food."
As well as providing refugees with livelihood training, Tun is also leading sessions in how to survive persecution (having taken the course himself through Open Doors local partners). He has been amazed at the way the Holy Spirit is taking away anger towards the military and replacing it with forgiveness. "This is the hand of God working in believers' hearts," he says.
"This spiritual warfare is something we cannot overcome with our physical strength, so I have to fight with prayer. Near my house, there is one prayer mountain where we can see the hills of Myanmar. Whenever I have free time, I go with my children to lay our hands over Myanmar, and pray: 'In the name of Jesus, we grant freedom, peace, justice!'"
Tun ends with a word of thanks for your support for the church in Myanmar. "Thank you very much for the prayer support and the financial support," he says. "Because of your prayers, we are still alive."
*Names changed for security reasons
That Christian youths will stay close to Jesus amid the pressures and temptations brought on by the military coup
For the protection of believers, and that they will be empowered in their faith and witness
For a complete end to violence and that the military, including its leader Min Aung Hlaing, will relinquish its grip on power.
Will you consider giving regularly to the persecuted church?
Open Doors aims to "strengthen what remains and is about to die" (Rev 3:2). Your Monthly Donation can help us to provide continuous support to the persecuted church worldwide and enable us to respond immediately to emergency situations.
Give monthly