How many more Christmases will Christian children celebrate in Iraq? Forced displacement is a deliberate tactic of religious persecution to rid a country of Christians and deprive children of their future. But, because of your support, Christians like 12-year-old Mimi and her mother Nadia from Iraq have found new hope for a future in their country.
A rooster crows while the sun rises over the rural area of Shekhan, Iraq. 12-year-old Mimi walks out into the morning breeze and greets the green hills with a smile. Then she heads to her chicken coop to collect eggs and, most importantly, greet her favorite chicken, Lulu. Mimi loves this farm and wants to take it over from her parents when she's older. For now, she takes the eggs to her mother, who might be able to use them for lunch.
Mimi loves Christmas.
"Glory to God in the highest! Peace on the earth, good will! Sweeping the plain, the glad refrain. Echoes from hill to hill!" – the famous Christmas song seems to fit in perfectly with the situation at the farm.
But the scene hasn't been always as romantic as it seems now, and a future on the farm for Mimi isn't a given either. Even though Mimi is only 12, she has had her fair share of persecution.
Difficult memories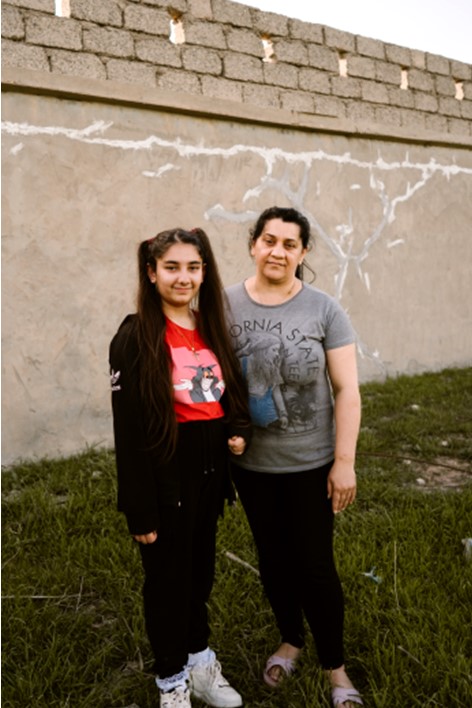 Mimi and her mother, Nadia
Mimi was only 4 years old when persecution drove her out of the safety of her grandparents' house, where she was staying with her mother and sisters at the time. She was too young to remember everything that happened, so Mimi's mother Nadia helps her to tell the story.
"At about 2 in the morning, the extremists of ISIS entered the village," she says. "It's been many years now and these voices are still in my ears, I think I will keep remembering that moment until I die," says Nadia, shivering.
Many Christian families like Mimi's were displaced when ISIS swept through villages in Nineveh Plains, near Mosul, in Iraq in 2014.
Three years later, after ISIS was defeated, the family returned to Nineveh Plains. But there was no work, no prospects, and no hope. With heavy hearts, they decided to leave Iraq.
But your support changed everything
Thanks to you, Open Doors' local partner provided a microloan to the family – one of 276 loans handed to Christians in Iraq. It meant Mimi's family could buy sheep, goats, and chickens to start a farm in their hometown.
Today, if you were to walk around the family's farm, you would see local people working the land – and 12-year-old Mimi caring for the chickens. "Lulu the chicken is my best friend; I love her colours," says Mimi. She collects eggs and gives the fertilised ones to other families, so they can raise their own chicks. One day, Mimi dreams of running the farm herself.
"I love Iraq because it is my country and I was born here."

Mimi
Preparations for Christmas are underway, when the small Christian community will come together. "We play songs and decorate the house with Christmas decorations," says Mimi. "I take Lulu inside the house to celebrate with us."
Your gifts and prayers mean Mimi has a childhood in her home and a future in Iraq. "I love Iraq because it is my country and I was born here," she says. "I don't want to leave. If my parents want to travel, they can, but I won't… I want to stay here with my chickens."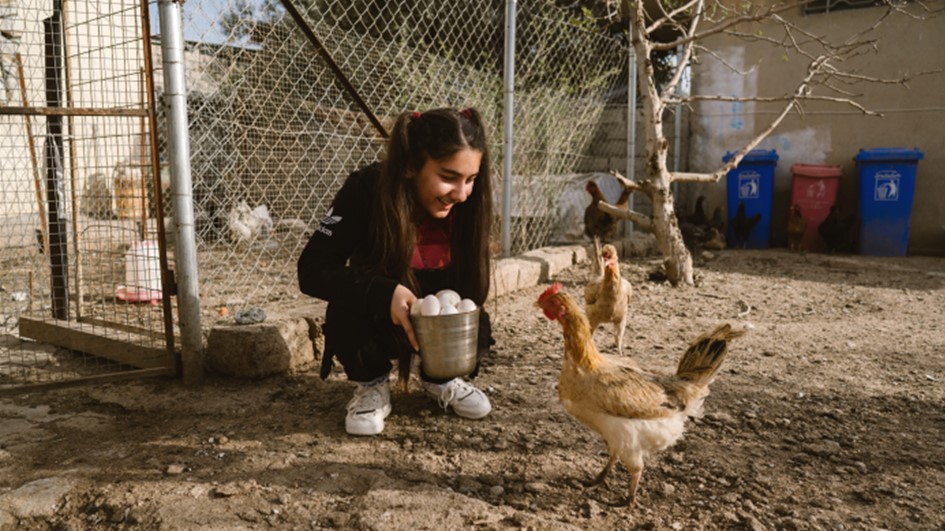 Mimi with her chickens
Ongoing need
But the situation isn't stable yet in Iraq. Persecution, war and the economic situation still drive Christians to emigrate. With your support, those who want to stay and be the salt and light of Iraq have the means to do so.
During Christmas lunch this year, as Mimi's chickens potter about and the sheep bleat outside, Christmas songs will come from inside their home – sweeping the plain, the glad refrain, echoes from hill to hill. May this peaceful Christmas be the first of many more to come in Iraq.
Thank God for His mercies on Mimi and her family, pray for those who chose to stay, that they may find hope and for daily provision for their needs.
Pray for children and families who have been displace.
Pray for those who have yet to know about Jesus, that they too may find a loving relationship with Him as Lord and Saviour.
A GIFT FOR A PERSECUTED CHILD
Every HK$200 could provide a month's education to a child impacted by persecution
Every HK$530 could support a child at the Colombia Children's Centre, giving safety, education and a future
Every HK$720 could give Bibles to ten children, so they can know Jesus through Scripture.
MY GIFT TO CHILDREN