It's nearly four months since fighting broke out in Sudan. Thousands have been killed and countless more displaced, and it's making life harder for Christians who are already vulnerable. Here we have the latest from the country – including how seven nuns are seeking to bring God's presence amidst the suffering.
The conflict that broke out in April continues to deteriorate – and it's putting Christians in greater danger.
The crisis has caused the deaths of at least 3,000 people, whilst more than three million have been displaced. "The situation has continued to deteriorate, and the Sudanese people are suffering," reports Fikiru*, an Open Doors research expert for East Africa. "The war does not look like it will end anytime soon."
Ceasefires attempts by the warring parties – the Sudanese Armed Forces (SAF) and the paramilitary Rapid Support Forces (RSF) – have not lasted, and there's currently little hope of a resolution. The two groups had united to overthrow Omar al-Bashir in 2019. However, a power struggle developed after plans to bring the RSF under the command of the SAF emerged.
The conflict has now spread beyond the capital Khartoum to the south, affecting the states of South Kordofan and Blue Nile, where there are large Christian communities who are already vulnerable. "We are deeply concerned about the regional and international components to the conflict [in Sudan]," said bishops from South Sudan, where many are fleeing to. "The conflict is destabilising the region which is already fragile and weakened by internal conflicts."
Churches report incidents of rape, kidnap and looting
Since fighting broke out, more than 165 churches have closed and at least 15 have been destroyed. Churches have also reported human rights violations such as rape, kidnap and looting. "There are many Christians still present in the war zones today who do not have any means to flee, who are suffering and we cannot reach them," says a local partner. "This is very tough for us; they are part of the body in Christ."
"We ask that churches worldwide do not grow tired or forget to pray for the situation in Sudan."

Fikiru
"Christians in Sudan are especially vulnerable and on the receiving end in war times," adds Fikiru. "We ask that churches worldwide do not grow tired or forget to pray for the situation in Sudan. We know there are many terrible things happening around the world, but do not forget about your brothers and sisters in Sudan."
Furthermore, Muslim fundamentalists are joining the fight, adding to concerns that the conflict could give Islamists a renewed foothold in Sudan. According to reports, 6,000 Islamists have joined the SAF since the outbreak of the conflict in April. "Our contacts in the country have indicated that Islamists publicly ask citizens to join the SAF in the fight against RSF," confirms Fikiru. "Other sources also mention that some of these Islamists or vigilante groups are former members of al-Bashir's party and security people".
Seven nuns receive the most vulnerable
Many vulnerable people are unable to flee, such as children and those who are elderly, disabled and sick. In one conflict-ridden area, a group of seven nuns have welcomed some of these people to feed and take care of them.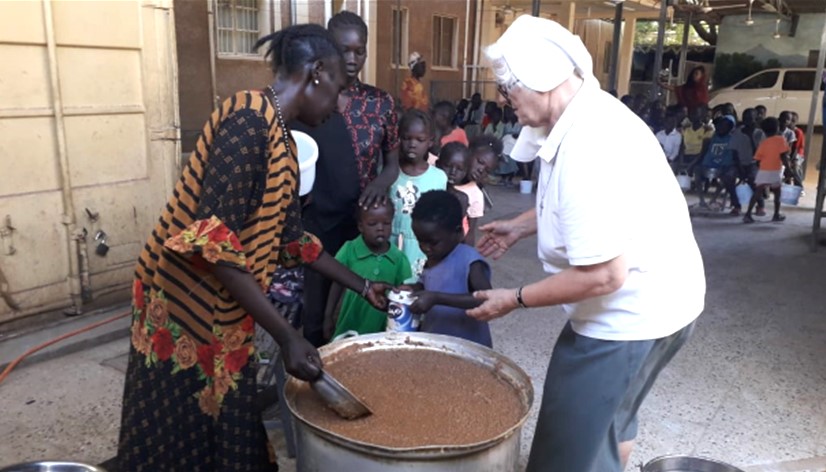 A nun serving food to children displaced by the crisis
"People are starving because the NGOs are unable to reach places because of war and no one is respecting the ceasefire," says a local partner whose family has been helped by the nuns. "They provide water from the well because in many places have run dry since the war started. The nuns also have a generator that they share for an hour every day so that some of us can charge our phones."
The partner said that that one night the children asked the nuns if they could join them in their prayers. It was pitch black as the neighbourhood has had no electricity for months. They all came together and prayed for peace to come to Sudan.
"One of nuns told me that she believes they were sent as missionaries, not just messengers," continues the partner. "'That's why we live with the Sudanese whether they are Christian or not, in joyful time and sorrow time.'"
*Name changed for security reasons
That the pain and upheaval will drive the warring parties to seek an immediate resolution to the crisis
That aid will reach all those in need, and that churches and Christians will be equipped as they seek to help others
For the safety and healing of our brothers and sisters, and that those kidnapped will be released.
Each week, we send out an email featuring news, stories and updates from around the world to inform and inspire your prayers for your persecuted family, together with details of events and resources that may interest you.
Subscribe