On February 2, Maria gave birth to her second son, Ralph.
And on February 6, Maria felt her home—located in northern Syria—start to shake. She was one of millions of people whose life would be altered by the Kahramanmaras earthquake.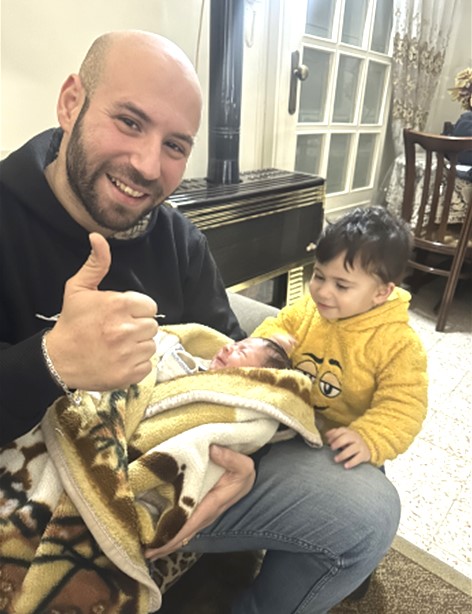 Maria's husband, Samih, with their sons, Elias and Ralph
Ralph's delivery had been difficult. Even though she was excited, she had to go through a Caesarean delivery to protect both her life and the life of her unborn child. Plus, in Syria, the healthcare system is one of the worst in the world, thanks to more than a decade of conflict. Even for the poor care she was to receive, it still cost more than two months of her husband, Samih's, salary. "Staff at the hospital weren't friendly, sheets were never changed, even Ralph didn't have his diapers changed properly," Maria says. Needless to say, Maria was eager to go back home to their fifth-floor apartment. When she arrived home with her new baby, she began the recovery process. It was painful for her to leave her bed and do simple tasks. She also needed to take care as they walked around the house so she didn't rip out her fresh stitches. She and Samih also had to take care of their two-year-old son, Elias.
Samih and Maria were already struggling to make ends meet. They are both undergraduate students who displayed a high level of achievement during their engineering studies, but the economic situation means they have to take low-paid jobs just to pay for day-to-day needs. Plus, Samih has been unemployed for two months.
Maria was already awake when the first earthquake hit, even though it was the middle of the night. She was slowly walking back to bed after using the bathroom during the night, and suddenly she saw a wardrobe—near Ralph's cradle—shaking and swaying. She knew what was happening immediately and started calling out, "Jesus! Jesus! Jesus!" in hysterics.
Within seconds, her husband jumped up and stretched out his arms to keep the wardrobe from falling on top of the cradle. When the shaking stopped, Samih scooped up Ralph and headed to the door.
Maria's mother, who was staying with the couple, ran to Elias' bedside, holding him tight.
"I kept calling to my mother, 'move mother, move,' but she wasn't answering," Maria says. "It is only with God's grace that she answered eventually and carried Elias." Because of her C-section sutures, it was impossible for Maria to carry her two-year-old herself.
"I could no longer feel my body; they later told me I was shivering like a leaf."

Maria
The family ran downstairs, knocking on doors on every floor to make sure no one was stuck inside. They eventually reached the road with their other neighbors who had fled. "It was pouring rain and very cold," Maria remembers. "At this point, I could no longer feel my body; they later told me I was shivering like a leaf." Her father arrived in his car and they all got into the car, driving aimlessly around the city, trying to stay on the main road where there was no risk of a building collapsing on them.
Remembering those first few hours, Maria thanked God that her newborn wasn't awake. "It was as if God wanted to protect him; even Elias (her other son) was calm," she says.
As much as it was uncomfortable to stretch her legs in the car, Maria found a way to feed her son. "Maria and I were afraid that she wouldn't be able to breastfeed in the midst of the shock," Samih says. "We can't afford buying formula; it would have been impossible."
The trauma is still apparent for both Maria and Samih. They were barely scraping by before the earthquake, and now it seems even harder. Even talking about living in Syria and her current situation, Maria bursts into tears. "I need to cry, I need to express myself," she says.
The future is unclear for Maria and her husband. Gas prices in Syria are among the most expensive in the world. The vulnerability of Syrian families is now further exacerbated by the earthquake.
"It was my faith that made me run down five floors despite my sutures."

Maria
Even before the earthquake, Open Doors partners were supporting Maria and her family with food parcels, rent support and winter aid. This aid will continue—once the family feels that their apartment is safe enough to return to. Though this family is just one of thousands in Syria being helped by Open Doors partners, the aid they've received helps them continue to follow Jesus.
When Maria is asked about her faith, she's able to regain her composure—and see a ray of hope. "It was my faith that made me run down five floors despite my sutures," she says. "It was my faith that kept my newborn asleep the whole time of the crisis, and it was my faith that allowed me to breastfeed again."
"As a mother to a newborn, knowing your son is fed and warm is the best feeling in the world," she says.
Please continue to pray for Maria, Samih, Ralph and Elias—and all of those impacted by the earthquake. Ask God to sustain them, even in the midst of devastation.

If you'd like to help people like Maria, you can support Open Doors' long-term and emergency aid in Syria and the Middle East.
Every HKD 350 could provide a vital packet of food, clothing and blankets for a persecuted Christian struggling to survive.
Every HKD 465 could enable two vulnerable believers to access essential health services.
Every HKD 200 could help a believer get trauma support and counseling to heal from their persecution.
URGENT EARTHQUAKE APPEAL