After Sudeep became a Christian, it wasn't long before he faced imprisonment, threats and mob violence for his faith. But your prayers and gifts have helped Sudeep to use his voice and continue to speak up for Christians in his community.
Raised as a Hindu in a remote village in central India, Sudeep* was married and settled with two children. His wife suddenly developed a chronic illness, and Sudeep looked everywhere for a cure – including local witchcraft practices.
He says, "Once when we went to a sorcerer, he asked me for a hefty sum of money. I could not afford to do it anymore... I was so frustrated by the empty promises that I decided I had had enough and would not look for treatments anymore."
It was just as Sudeep gave up that a missionary told him about healing through Jesus. He laughed at the missionary and said, "This Jesus who was crucified on the cross couldn't save himself, so how is He going to save my wife?"
A miraculous healing and a fresh start
But around the same time, Sudeep's sister had become a Christian, and she was keen to introduce her brother and his wife to Jesus. Sudeep's wife started going to church – and that's when Sudeep's life changed.
"After going to the church for a few meetings, one day my wife realised that she was completely healed from the pain [which diminished] while the prayer was going on. That very day, the people from the congregation called me to the church without telling me about the healing.
After the prayer was over, I saw my wife standing and smiling, all healed and renewed.

Sudeep
"When I came, the pastor was talking about repentance and he said if anyone feels guilty for his wrongdoings, now is the time to repent. I closed my eyes and when the prayer began, I experienced something extraordinary. I began to weep and shiver; I recalled the time when I had stamped on a pamphlet about Jesus. I cried and repented. After the prayer was over, I saw my wife standing and smiling, all healed and renewed; that is when I resolved to give my life to the Lord and serve Him."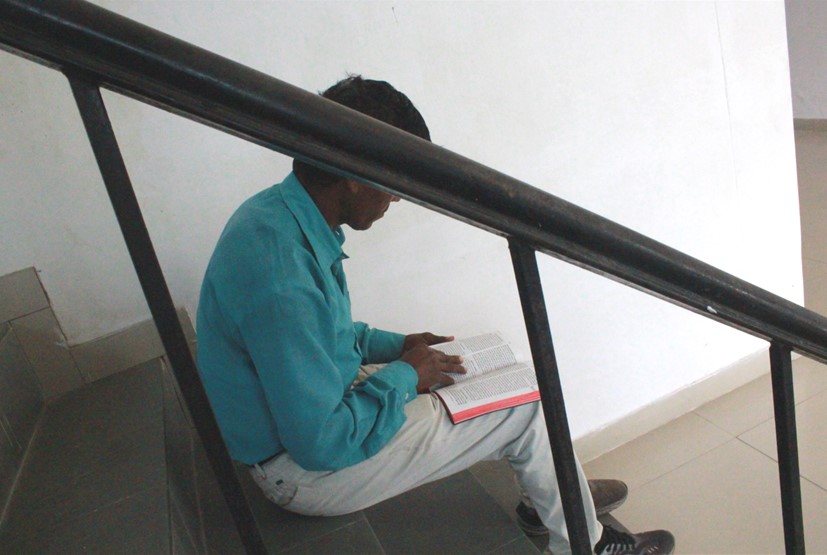 Sudeep reading his bible
Sudeep stands up against the mob
Sudeep attended a Bible course and began sharing about Jesus in community – but two years into his ministry, the persecution began. "[The police] would force their way into my church service and shove me into their vehicle, locking me up in jail many times for long hours. While in lock-up they would threaten me harshly and tried to force me to leave my faith and stop preaching. 
"The lock-up where they used to put me was in an unbelievably bad state. It was a dark, dingy room where the criminals would urinate and excrete in a corner. The room had no windows, no ventilation, and no light; all this in the hot and humid month of June where the temperature would be over 35 degrees most of the time."
Just when Sudeep was becoming discouraged, local Open Doors partners invited him to attend persecution survival training, made possible by your gifts and prayers. "I was excited to learn about how persecution was relevant in shaping my faith," he says. "I was also taught how I had rights as a citizen of India, and I was doing nothing wrong by living my faith."
They asked me to bow down before all the idols. I denied instantly but they threatened me.

Sudeep
Not long after he completed the training, the persecution grew worse: his entire village formed a mob and forced him to the local temple. "I shudder while even remembering the incident… they asked me to bow down before all the idols. I denied instantly but they threatened me, saying, 'We will tear your body into two parts and kill you if you do not leave this foreign faith.'
"It was at that moment when something happened. God reminded me of everything I had learned in the persecution survival trainings. I spoke courageously about the rights I had as a citizen and that I was not committing any crime… The police were amazed at my boldness and then they turned back to the assaulters asking them not to trouble me again. I escaped from there because of all the knowledge I had gained from the persecution survival training."
"I'm not giving up God's love for anything"
"I lived with so much fear... but the Lord stood with me and gave me the strength I needed"

Sudeep
Thanks to you, Open Doors partners have been able to strengthen Sudeep in his ministry as he faces these difficulties. "At first, I could not even understand what was happening to me and I became discouraged at times," he says. "However, when I met Open Doors partners, they helped me understand how trials and persecution are an important part of our Christian lives. The seminars not only helped me with spiritual knowledge but also equipped me with knowledge about my rights as a citizen. It taught me to take a stand and not succumb to vain threats. I learnt so much I am now able to stand so strongly against persecution.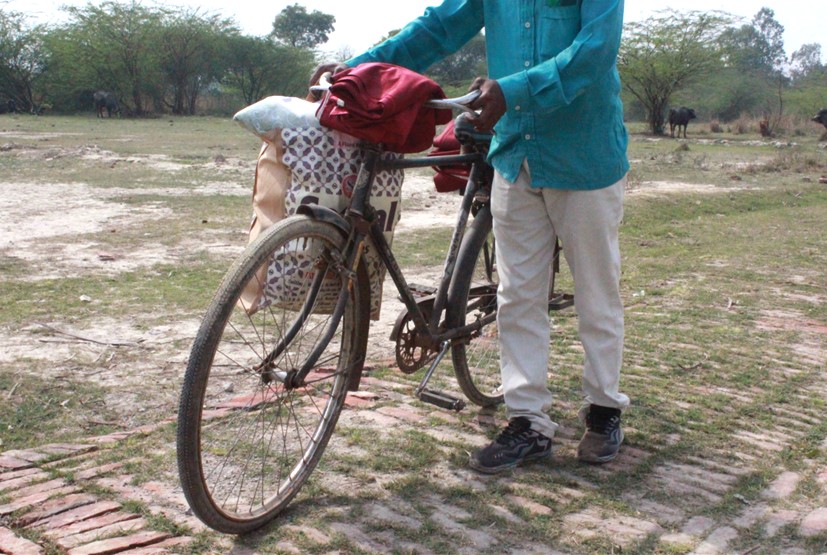 Sudeep with his bicycle and clothes for sale
"Not only this, but Open Doors partners also helped with my livelihood. There was a point when I was struggling with my earnings. Because of Covid-19, church services were not being held, so there were no offerings. Believers from my church were also unemployed because of the pandemic and they could not support me. At that moment, Open Doors partners helped me start a small business of ready-made clothes which I sell with the help of a bicycle."
Today, Sudeep continues to stand strong as an advocate for himself and Christians he serves in his community. He is grateful for your continued prayers and support. "How does it feel when there is a whole fleet of police cars surrounding you and they keep you locked in dark jail rooms for hours? I lived with so much fear after facing that several times, but the Lord stood with me and gave me the strength I needed. The teachings from Open Doors partners have worked to impart that strength to me. All I need is His love, and I am not giving it up for anything else." 
*Name changed for security reasons  
For Sudeep's ministry as he advocates for himself and the Christians in his community
That Sudeep's persecutors will come to know God's love through his witness
For God's protection and strength for local Open Doors partners in India.
Every HK$580 could give a persecuted Christian a loan and training, so they can open a small business and support their family.
Every HK$820 could provide emergency food, medicine and shelter to four believers in India affected by persecution.
Every HK$980 could train 20 believers, equipping them with a biblical response to persecution.