Pastor Shekhar* remembers the day he knew his time for persecution had come. He had gathered with believers for a prayer meeting in one of his church member's homes when policemen interrupted the meeting. What followed was a melee of threats, arrests and torturous violence that left Pastor Shekhar severely injured. He was told to leave his home with his family—simply because they are Christians in India.
Today in India, Pastor Shekhar's story is just one of thousands of examples of the record-high violence that Christians in India have seen in the last year in the country of 1.3 billion citizens.
The numbers are alarming. Open Doors just compiled the final data from 2021, and our research indicates that between, January and December 2021, 26,774 Indian Christians faced physical, psychological, emotional or spiritual abuse for their faith—20 of those believers were murdered.
That's an average of 2,228 Christians a month and 73 Christians a day. Of the almost 28,000 individuals affected by severe persecution, 11,597 victims were women, 8,421 were men, and a disturbing 6,488 were children.
Just the 'tip of the iceberg'
Ranked #10 on Open Doors' 2022 World Watch List for the last three years, India has emerged as one of the most dangerous places for Christians to practice their faith. From 2020 to 2021, the number of reported abusive incidents against Christians increased 54%.
Some 1,236 severe persecution incidents were reported in 2021, suggesting that a number of these attacks took place in a church building or house church like Pastor Shekhar's where groups of believers were gathered. Almost 300 disruptions in religious services were reported.
Keep in mind, these numbers and the following ones represent only reported incidents shared with our local partners on the ground. These 1,236 persecution incidents are only a small fraction of the overall persecution of and discrimination against the estimated 66 million Christians in India.
"We know that the reported figures are just the tip of the iceberg," an Open Doors spokesperson says. "Many incidents go unreported. A major cause for this is that sadly many Christians who live in rural areas think that persecution is normal, and they can't do anything about it. They don't know their rights. And the pandemic is another factor. Our partners are less able to investigate incidents due to all the restrictions."
The reported number of individual Christians attacked and beaten for their faith increased slightly from 1,893 in 2020 to 1,990 in 2021. Other numbers reveal a critical situation for Christians in India, especially those who have left Hinduism to follow Jesus: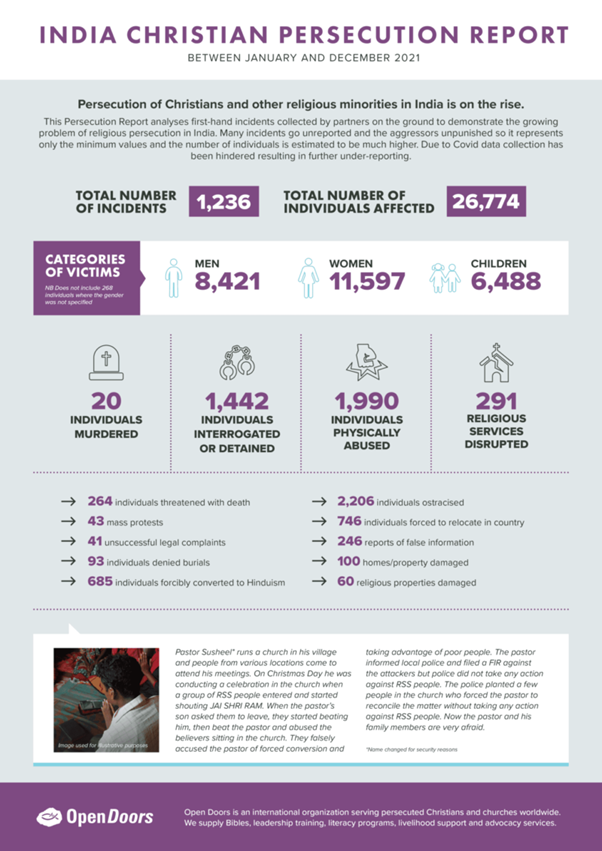 The driving force behind the groundswell of Christian persecution in India is Hindutva, an extremist strain of Hinduism that disregards Indian Christians and other religious minorities, claiming they aren't true Indians because they have allegiances that lie outside of the country's majority religion. A Pew survey conducted last year found that although most Indians and Hindus say they are tolerant of other faiths, 64% of Hindus surveyed say it's important to be Hindu in order to be "truly Indian."
A research report commissioned by Open Doors and conducted by researchers at the London School of Economics and Political Science shows how often attacks and persecution against religious minorities are ignored. The report,
Destructive Lies: Disinformation, speech that incites violence and discrimination against religious minorities in India
noted that the attacks are sometimes even condoned by powerful forces and people in India—including state and regional government, police, and media—to keep on the good side of India's radical Hindu nationalists.
The report explains: "It is now frequently the case that violent squads or vigilante mobs of [radical Hindu] men with connections to local and national politicians or ambitions to be noticed and rewarded by local or national politicians intrude into the homes and places of worship of these communities, looking to start violence."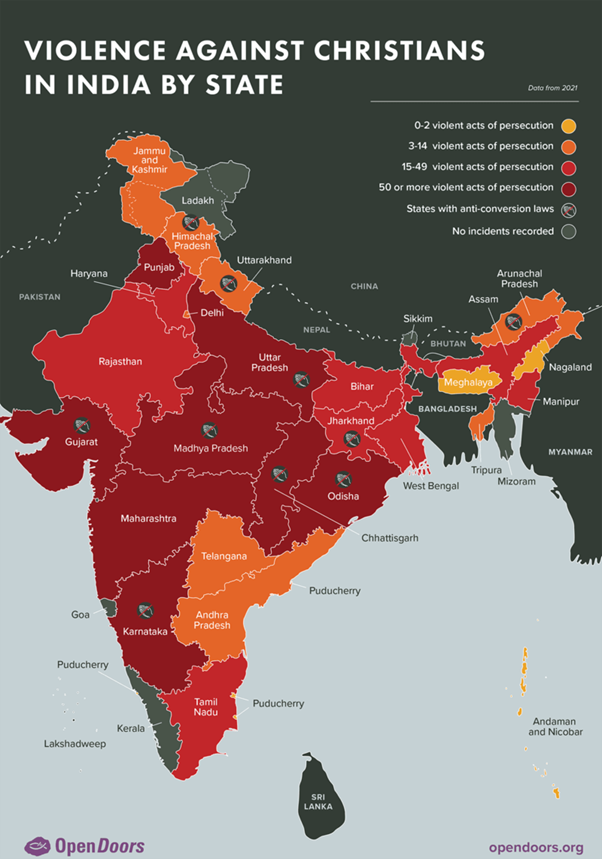 Unshakeable faith and radical hope
Despite the pain, sadness, fear, and emotional and physical toll Pastor Shekhar has faced, he is resolute in his decision to follow Jesus and lead others to Him.
His experience shows us how devastating the situation is, but he also reveals the unshakeable faith that he and thousands of believers like him share. They are beacons of radical hope that our partners on the ground repeatedly tell us about. Persecution in India is rising, but that's not the whole story. The church in the world's second-most-populous country is growing both in number and devotion.
"I cannot stop serving God," Pastor Shekhar says, "I cannot live without God because I've surrendered my whole life to Him. I'll keep serving God till my last breath, even in happiness or sadness, even if I have to suffer greatly or slightly, even if I have to give my life for God."
*Name changed for security reasons
Stand with the church in India
When Open Doors partners heard what happened to Pastor Shekhar and the other believers, they were able to provide medical help, groceries and rent assistance for the family as they rebuilt their lives—thanks to your gifts and prayers. "At that time of sadness, we could feel you as a family standing by us," Pastor Shekhar says. "If an animal or a bird is injured, it's unable to get up on its own—it needs treatment. My life was also incapacitated at that time, and we were troubled and tired. I had faith and belief but didn't have strength to stand on my own. You took care of me like an injured bird and gave me enough strength and courage to stand on my own, which is why I am standing today."
Every HK$580 could give a persecuted Christian a loan and training, so they can open a small business and support their family.
Every HK$820 could provide emergency food, medicine and shelter to four believers in India affected by persecution.
Every HK$980 could train 20 believers, equipping them with a biblical response to persecution.