Following the Taliban's takeover of power which has forced many Christians to flee or go deeper underground, we have regularly asked you to keep our Afghan family in your prayers. As this update shows, your prayers are contributing to God working in powerful ways among Afghan refugees. Thank you!
As the past World Cup has demonstrated, football has a wonderful way of bringing people together. It happens all over the world – including in Central Asia, where an idea by Open Doors local partners has led to the emergence of something very special.
For Afghan refugees arriving in a particular part of the region, finding work is extremely difficult. Children often witness the stress and hardship this brings their families – they see the hopelessness in their parents' eyes and watch their siblings go to bed hungry. Some children have even considered suicide to escape from it all.
This need led to Open Doors local partners organising activities, such as football and volleyball, for the children – and it's had an enormous impact. Not only has it provided the children with joy and friendship, but it's also led to the creation of a small house church after 15-20 of them gave their lives to Jesus! In the unlikeliest of places, a church has been birthed.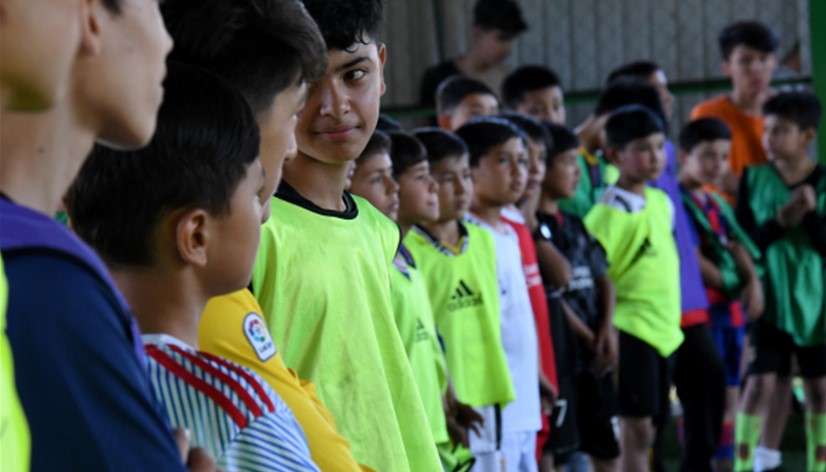 Football is providing friendship and fun for young Afghan refugees – and leading many to Jesus
Friendship for Fatima
It's one of many ways your prayers and support are helping our Afghan brothers and sisters.
After her husband was killed, and with it no longer safe for her and her family to remain in Afghanistan, Fatima* and her children had to flee. Shortly before a visit from local partners in a neighbouring country, she lost one of her six children. The family's situation was desperate – the small apartment she was in could barely accommodate them all, she had no source of income and couldn't work, and her youngest is disabled and needs constant care.
The local partners have been able give practical and pastoral support to Fatima and her children. This has inspired others to regularly visit and provide care for the family, and Fatima is greatly encouraged by this.
Fatima is one of thousands of Afghan refugees who have benefited from your ongoing support. Thank you!
Divine protection
We requested prayer last year after it emerged that many refugees were being unlawfully deported back to Afghanistan. It was unclear why this was happening, but it was highly worrying for Christians who would be at risk of death if they returned to their homeland and their faith was discovered.
Thankfully, believers were protected from these deportations and Open Doors local partners are providing them with support whilst they stay hidden and eagerly await the day when they can live freely without any fear of deportation. "I have only one dream – to have a passport," said the pastor of a small house church. To have this would give them a sense of belonging and freedom.

Continue to pray as grave risks remain
These are just some of the ways you're helping our Afghan family. The Taliban's takeover in August 2021 forced believers either away from the country or deeper underground. Wherever they are now, grave risks remain, but as these stories show, there is hope as God continues to move in powerful ways.
This is often through your faithful prayers and support. Thank you for continuing to stand with our Afghan family, and please keep them in your prayers.
*Name changed for security reasons
Give thanks for the amazing ways God is working among Afghan refugee
For God's continued protection of believers in and beyond Afghanistan
That our Afghan family will experience afresh over Christmas the joy and wonder of 'God with us' (Matthew 1:23)
Every HK$240 could give Bibles to five believers fleeing extreme persecution
Every HK$430 could provide refugees fleeing extreme persecution with a food package and essential medicine
Every HK$550 could provide spiritual and financial support to three believers fleeing extreme persecution
GIVE NOW: WORLD WATCH LIST TOP 10 COUNTRIES