Manipur, India, isn't in the news headlines anymore – but the violence continues in fits and starts, and thousands of Christians and others are still displaced, having lost everything. Anjali Lhing*, a local Open Doors partner, shares stories from her recent visit to the region, including how your gifts and prayers are making an impact.
Despite international media coverage on the violence and persecution in Manipur dying down, the tensions between the Kuki and Meitei groups still continue, and believers who lost their homes in the conflict remain displaced. Surges of violence occur even more than a month after the riots began, including bomb attacks among insurgents on 13 June that killed 11, and the killing of a Christian woman praying inside her church a day before that.
The damage is massive – more than 350 churches have been destroyed. Thousands of Christian houses and properties have been burned and demolished, more than 100 people have been killed in the violence, and more than 30,000 Christians from both Meitei and Kuki sides have been displaced and are taking shelter in neighbouring states or in camps and other places of refuge.
Open Doors local partners continue to visit displaced believers, both in the Manipur region and those who have fled to neighbouring states, giving them urgent aid and relief and being there for prayer and emotional support. In this interview, Open Doors local partner Anjali Lhing* shares what she is seeing.
It's been a month since the violence broke out in Manipur. Is the violence continuing?
Anjali Lhing: It was intense and emotional to see how it was. Even after a month since the violence broke out, the number of incidents and the body count still seem to rise every day. A lot of firing was still happening every night. Because of the ongoing tensions, even some of our volunteers had to flee and are displaced.
"The number of incidents and the body count still seem to rise every day."

Anjali
We saw the place where the first attack happened, and even spoke with some of the military. We learned that there were three villages that were completely owned by believers that have been razed to the ground.
Though the mass burning of Christian property and churches have lessened, there are spurts of violence every so often, and the armed conflict remains active. There are tribal villages that are still being attacked on a daily basis. People have been displaced, killed and villages are still being put to dust.
Meanwhile, Meitei Christians in the valley area are being forced to 'reconvert' by the Arambai Tenggol Hindu/Sanamahist extremist group and, if they don't, are physically abused or killed. This is what we hear from believers on the ground. The people who could not afford to flee out of the state are hiding in different places for their lives. Pastors and leaders are still on the run in the valley area due to threats of reconversion, and for their general safety.
There is a lack of medical help, food and sanitation. Many pregnant women, infants and elderly citizens are also victims of this violence. Young girls have faced physical violence and sexual assault, especially in the initial breakout of the violence. As families have been parted, people are restless to know about the safety of their loved ones.
Your team visited the affected believers and gave them urgent aid recently - can you share about these visits?
Anjali: The situation is still very intense in the state. There is an airport in the Imphal Valley region, but as people cannot cross the tribal/non-tribal border, it has been very challenging to visit these places. We have conducted the first round of urgent aid relief in two different tribal areas. To reach these areas, our partners were divided into groups, and we had to enter via road through two different states.
Grocery relief was what we provided first – 350 relief packages so far, with several hundred relief packs to follow. This include groceries such as rice, dal, pulses, cooking oil, as well as toiletries and sanitary items and such items that are the basic necessities of the people. This distribution was done among the internally displaced persons in schools, colleges and camps. We met families and listened to their stories, counselled them, prayed for them and with them, and listened to their needs.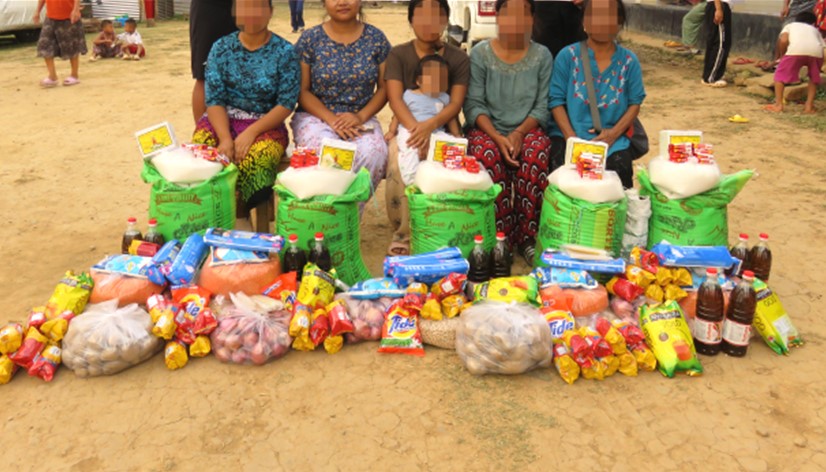 What are people sharing with you?
Anjali: We came across people who are filled with fear and trauma. We met innocent children who do not have a clue about what is happening; we met families who have lost their dear ones; we heard mothers crying for their sons and men trying to stay strong to protect their families.
Trust has been lost among the people. It was very hard for people to open up to us or even meet us. Some people came up inquiring about their loved ones and if we have come across any of them. Our hearts were overcome with emotion as we saw and listened to them. We, too, are in pain.
"It is God who brings people like you even in such a fearful situation, just to help us."

Vaa Kim
A believer called Vaa Kim* told me: "Thank you for your help of groceries, with this we can at least feed our children proper food. It is God who brings people like you even in such a fearful situation, just to help us. God bless you people who have given this help. Please pray for us; we want the violence to end, we want peace and a normal life. We want our family back. Your support really means a lot to us."
Another Christian, Michan*, who'd lost everything – his home, all his possessions – said to us: "More than these groceries, I appreciate your bravery to come here. You truly have a heart for people. But I am very thankful for these groceries. It is not small; this is indeed a very big help. Thank you everyone who has helped in providing this to us."
We prayed with many Christians and assured them that the world of believers is praying for them, and we encouraged them from God's Word. We stood with them in prayer and look forward to continuing being there for them.
How is this affecting people's faith?
Anjali: People are filled with trauma and mixed emotions. Not everyone is filled with the same feelings. People are filled with rage, fear, some are feeling hopeless and some are holding on to their faith. People have expressed that life is much more important than material things and they are grateful to God. They are praying for restoration of hearts and for the end of this violence.
"He has given us groceries to answer our need. It has given us... a reason to believe in God and His people and His providence."

Kiminlong
A believer called Kiminlong* told me, "At least we are alive, and that is because of God. We also would have been dead if God would have not saved us. But God has provided us more. He has given us groceries to answer our need. It has given us hope. Not just to fill our physical needs, but a reason to believe in God and His people and His providence."
Others have said similar things – and that they will not give up their faith, because it's the only thing left. It's unbelievable to see such faith still stand after everything they have been through.
Are Christians able to worship together?
Anjali: Because of the curfew, the believers are still not meeting at church or in public places. The curfew is still imposed in the whole state. The tribal land is much safer than the valley region for the believers. The people conduct family prayers in their homes.
"They are praying for restoration of hearts and for the end of this violence."

Anjali
At Christian relief camps, they try to gather in small numbers and pray for the situation, encourage and counsel each other and build trust. They are unable to gather in military camps, as in military camps prayer gatherings are not allowed – in order to avoid clashes and tensions among the Meitei and Kuki.
Please do pray for believers of Manipur. This is an ethno-religious attack, and believers are affected by this attack regardless of whether they are Kukis or Meiteis. While the Kuki Christian majority is hugely affected, believers within the Meitei tribe have become doubly vulnerable because of the Hindu majority they belong to. Amidst the ethnic tensions they're already under, they are also being pressured by the Arambai Tenggol group to 'reconvert' to Sanamahism and Hinduism.
Many Open Doors supporters are praying for the persecuted Christians in Manipur. How can we also pray for Open Doors partners?
Anjali: It is still very difficult for us to reach some places in Manipur, and the internet shutdown continues – locals say it may be 'til the end of June. But we believe when God opens doors for us to enter, that no one will be able to shut them. Please pray that that will happen. We want to work with faith. And pray for our team as we ourselves are filled with emotions and heavy hearts when we are visiting people on the ground.
*Names changed for security reasons
For Open Doors partners like Anjali to be equipped and blessed to serve and encourage Christians affected by this violence
For local believers to know God's tender kindness and loving care as they heal from trauma
That peace would come to this region, and all authorities and decision-makers would be granted wisdom.
Every HK$170 could provide emergency food and aid for a believer in India affected by violent persecution.
Every HK$500 could help provide shelter for a believer displaced by violent persecution.
*Any excess funds from one-time donations for this appeal will be used to support persecuted Christians where the need is greatest. All funds from monthly donations will go to where most needed.
Give now: India
Give monthly