Programmes run by Open Doors local partners in east Malaysia are providing musical fun for young believers and helping them to hold onto faith in a society that can be hostile to Christianity.
In rural parts of east Malaysia, young Christians are vulnerable to forced conversion to Islam. But thanks to programmes run by Open Doors local partners, many are being equipped to stand strong in their faith – and have some fun along the way!
Malaysia is number 50 on the World Watch List. The country is predominantly Muslim and political instability has led to a greater emphasis on conservative Islam, which has intensified pressure on Christians – and it may yet get worse if government proposals to widen the implementation of Sharia (Islamic law) are accepted.
Every HK$200
could provide a month's education to a child impacted by persecution
Give now
It's against this backdrop that Open Doors local partners recognise a need to equip young Christians in their faith.
At least three programmes are being run in the region on a monthly basis, with each one attended by around ten young people. Content includes helping participants understand the risks they may face and how to stand strong, as well as showing how to live distinctly as a Christian in an ever-changing culture.
Jesus, ukuleles and hitting the right notes
One of the programmes involves children aged 9-12 learning an instrument whilst hearing about Jesus. It's a fun and engaging way of connecting with young people – and it's hitting the right notes with them!
"The connection was almost immediate between us and the kids," said Anna*, a local partner helping to run a recent programme. "They were excited to see the materials that we prepared – the new books and the musical instruments."
It lasted three days and local partners were able to engage with children with Bible stories and some arts and crafts activities, alongside learning to play the ukulele, the musical instrument of choice on this occasion.
"I was amazed at how much of the Bible these kids knew," Anna continues. "They could understand the concept of God's love and, in turn, are trying to love others in the same way." It reflects the hunger and excitement for God seen in young people across all programmes.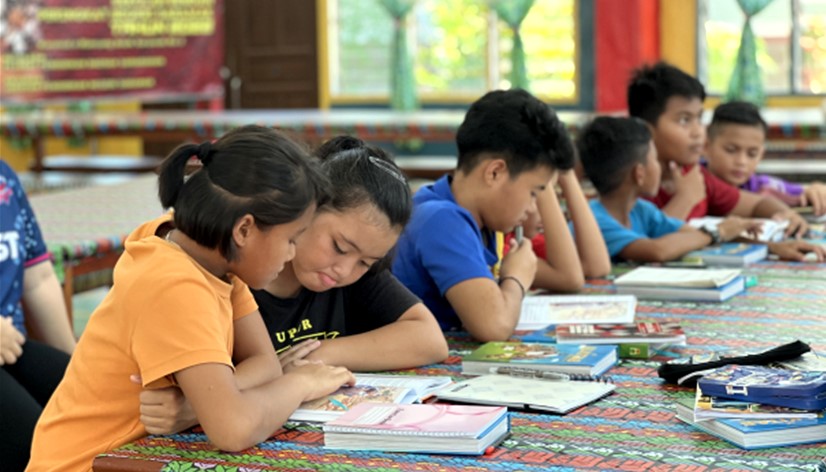 "Jesus went to the cross for us," said one of the little girls who attended the music programme. "God forgave us of our sins and has redeemed us," shouted a boy. "God is our Father who is full of love!" said another child.
Learning to play the ukulele was a highlight for many of the children. Even though there weren't enough ukuleles for each child, those who didn't have an instrument found buckets to be used as drums, while others just used their hands, just happy to be a part of the programme.
"The kids were really proud of themselves after learning the songs," said another volunteer.
The children also learned and performed a dance, bringing tears to Anna. "They performed a traditional dance," she says. "I was astonished by how graceful they moved at such a young age."
"Though the dance is beautiful, the culture is not always welcomed by the majority religion," she continues. "Some dances are considered provocative, and some music is considered sinful. Some of these kids are forced to abandon their culture because of this notion. But being a native girl myself, I loved their performance."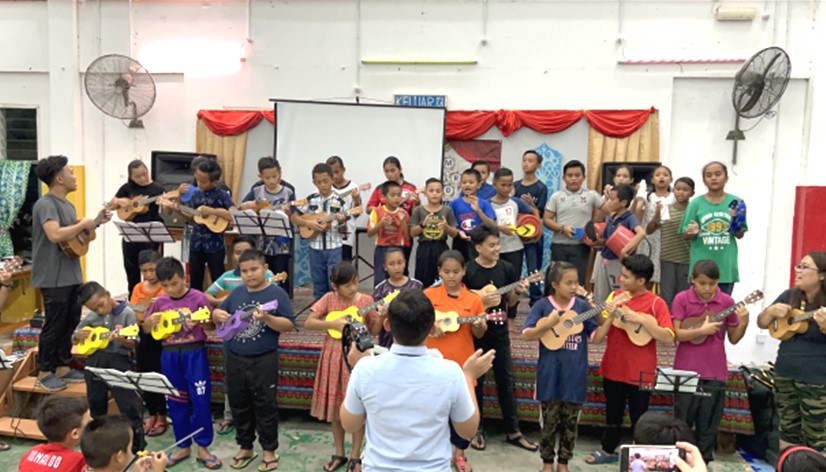 Difficult journeys but rewarding impact
Since the children live in rural areas, many of the local partners had to travel long hours on difficult terrain to reach them.
"It was a challenge but at the same time it teaches us to step up and learn to depend on God," said Sandy*, one of the local partners, whose car broke down en route to one of the programmes. It forced all volunteers to squeeze into a smaller vehicle for a few hours.
"The journey was frightening and dangerous," said Katy*, another local partner who had trouble travelling. "I was scared and did not dare to sleep. The whole journey I was just praying. Thank God we arrived safely."
But for the local partners and children, the effort was more than worth it. "It has been a while since a camp like this was organised," said a child. "I really missed it. I get to learn new things and meet new friends."
*Names changed for security reasons
Give thanks for these programmes, and ask the Lord to continue strengthening, resourcing and encouraging local partners as they seek to disciple young Christians
That those attending these programmes will continue grow in faith, gifting and character
For the provision of more volunteers to help run these programmes.
A GIFT FOR A PERSECUTED CHILD

Will you give hope to persecuted children this Christmas?

Every HK$200 could provide a month's education to a child impacted by persecution
Every HK$530 could support a child at the Colombia Children's Centre, giving safety, education and a future
Every HK$720 could give Bibles to ten children, so they can know Jesus through Scripture.
MY GIFT TO CHILDREN