Income-generating projects and microloans make a huge difference for vulnerable Christians in Syria – thanks to the prayers and gifts of Open Doors supporters.
Persecution, conflict and instability in Syria have a lasting impact of the region's Christians. For them, the crisis isn't just the day they had to flee their home, or when their Christian community was dispersed. For many of our brothers and sisters, violence and displacement meant the end of any means of getting income to support their families.
That's why your prayers and gifts are so vital for long-term help. Local Open Doors partners support vulnerable Christians with business microloans and income-generation projects, enabling them to keep going for the long-term. And that also helps ensure the survival of the church in the Middle East.
Hundreds of Syrians are starting or sustaining their businesses thanks to Open Doors supporters like you. Here are five stories of people who have hope for the future, with your help.

Elias in Aleppo got a prosthetic leg, a career, and hope for the future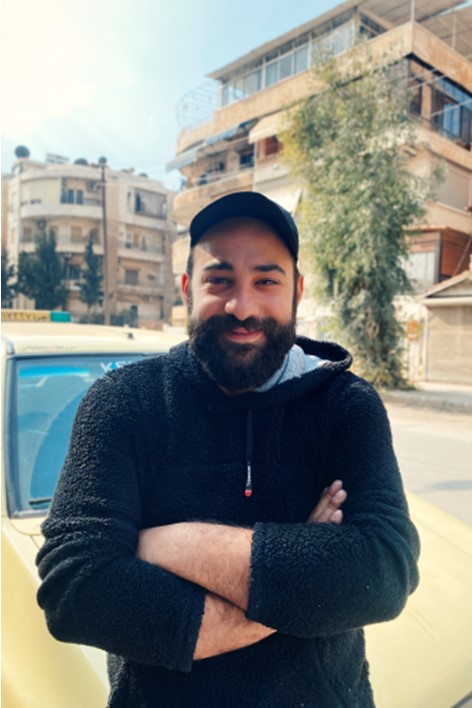 For the rest of his life, Elias Baladi (25) will be affected by the consequences of war. Serving in his obligatory military service, Elias got badly injured by a missile attack in which he lost his leg.
"They fired some rockets. The third one caused my injuries," Elias remembers. "I lay there about one and a half hours, bleeding, until I was rescued."
He underwent surgery in hospital, where an amputation was needed. As a wounded and disabled soldier, the government gave him a one-time financial compensation of 190,000 Syrian pounds (about £45 in British currency). "It wasn't even enough to buy some basic things for my house," he says.
Your gifts and prayers have changed Elias's life. Local Open Doors partners at a Centre of Hope were able to pay for Elias to have a prosthetic leg, and gave financial assistance so he could earn a living.
"This helps make a big difference in my life. The church were like angels to me."

Elias
"They approved a microloan to buy a car to start working as a taxi driver," says Elias. "This car gives me a decent income. I have my house because of the car. I can afford to buy the food we need because of the car. I can meet the need of my family.
"This helps make a big difference in my life. The church were like angels to me. God is training me every day, with every experience. God turned the bad into something to my benefit. God has a plan in every situation."
From kidnapped prisoner to clothes shop owner
1 December 2021, the day he opened his shop in the streets of Al Hwash close to Marmarita, was a big moment in Charlie's life. How different that day was compared with December three years earlier when he was kidnapped in the north east of Syria and kept prisoner for over three weeks. As soon as he was released, he escaped with his wife and daughter to a Christian community west of Homs. He wasn't able to return to his home.
"I had seven clothes shops for women and children in the north east – I lost them all," Charlie says. It was his second displacement. Charlie lived until 2014 in Tal Tamr but, when so-called Islamic State took control over that region, he fled to Qamishli.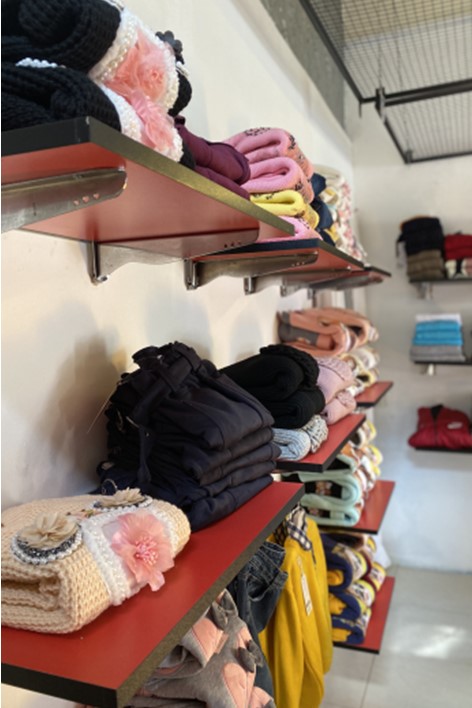 "Before I could open this shop, my hope, my optimism was zero," he says. "Then I heard that my application for this shop was approved by the church." Charlie's church is a Centre of Hope run by Open Doors partners. "The atmosphere in our house changed, and my psychological state improved a lot. It felt like a dream. When I opened the shop, I had tears of joy in my eyes."
Charlie is now able to support his wife and their two young children. He says it's too early to say how successful his business will be. "I expect that in the next months, the income through the shop will grow. It's like a farmer, when he plants something, it takes time before he can harvest."
Njoud knows God is with her and her gift shop
Life as a vulnerable Christian in Syria was already difficult for Njoud before the pandemic came. Then, a year and a half ago, she lost her husband to Covid-19. Njoud had to become the breadwinner.
"When my husband Yasser died, the church stood by me. They gave me the emotional and financial support I needed. They motivated me to start something and to be strong," says Njoud. "I investigated the possibilities of opening a shop and presented the project to the church. They approved it." The shop sells Njoudi's handmade jewellery, as well as perfume, bags and other gifts.
"He [God] is with me, every second, every step I take."

Njoud
Njoud's church is also a Centre of Hope, run by Open Doors local partner Father Fadi. He didn't just approve this income-generation project – he continued supporting it by giving gift coupons to church members for Christmas. "That was a big help too," says Njoudi. "I was scared in the beginning; the market now is very unstable. But it is working. Many people come to buy things here."
She is worried about the ongoing economic crisis in Syria, but has seen the faithfulness of God throughout the years. "He is with me, every second, every step I take," she says while tears run down her cheeks. "Yes, I reached a point that I wanted to give up, when the inflation suddenly started to rise. But I saw that God is and was with me, every minute. Look where I am now."
The shop is doing so well that she already has another woman working part-time during the week. "Things are going to get better. The economic situation is a big challenge, but God will never leave me."
Selling vegetables and fruit in Latakia sustains five families
Amgad's grocery shop in Latakia isn't just supporting his family – the income is supporting five families! And it all came from a microloan given by Open Doors partners to Amgad for his shop. "I am also able to sustain my parents with my income," he says proudly.
Amgad was also able to buy a car, which makes it easier to buy the vegetables and fruits and bring them to the shop. Shops in Syria are small compared to what is the average in European countries, but it is still sufficient for his needs and those of the people who work there, and their families.
"I am now saving for my marriage," he says. "When the economic situation improves, I feel that I will expand my work and I will be able to make even more money."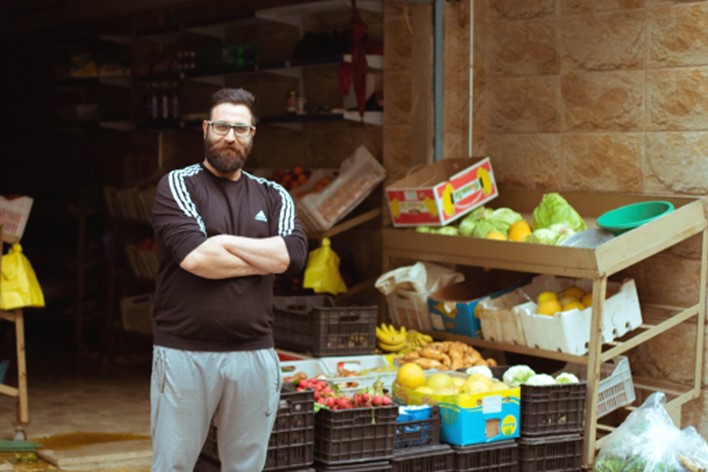 Salah Askiefi's sushi restaurant in Latakia
Conflict in Syria meant that Salah Askiefi left the country, for Lebanon. Now, thanks to a loan from Open Doors partners, he is able to run a somewhat unusual restaurant in Latakia, Syria. It serves sweet sushi.
Sushi isn't common in Syria, let alone sweet sushi, and it appeals to young people seeking something different. "I wanted to start something new, introduce a new culture of eating. Students love to come to my place; my prices aren't high," he says. The slogans on the wall – 'Make chocolate not war' and 'Chocolate really understands you' – bring smiles to the faces of all who visit the restaurant.
"I want to thank everyone who made this possible. This was a lifeline to me and to others. This changed my life."

Salah
"When I came from Lebanon back to Syria, I had no income. The restaurant means to me that I am able to afford a decent life and to even help my parents with their expenses," he says.
Salah is grateful to the local Open Doors partners and, above all, to God. "I was blessed that God turned His face to me," he says. "God helped me with this, where all roads seemed closed. I want to thank everyone who made this possible. This was a lifeline to me and to others. This changed my life."
Praise God for all the lives that are being changed through financial help in Syria
That these brothers and sisters would have opportunities to share the news of how God has strengthened and sustained them
For Open Doors local partners to be equipped to serve and support many other vulnerable Christians in their community.

With your support, we will open more Centres of Hope across Syria and Iraq, and the church will shine as a beacon of light in the darkness. Hope will arise once more in the region!

Every HK$290 could supply vital food, winter clothing and blankets to a Christian in Syria this winter.
Every HK$400 could enable two vulnerable believers to access basic medical services.
Every HK$510 could provide trauma support and counselling to a believer attending a retreat.
GIVE NOW: HOPE FOR MIDDLE EAST