Pressure on Christian converts in Bangladesh is increasing, with hate-posts being spread on social media and children as young as four being impacted by anti-Christian rhetoric.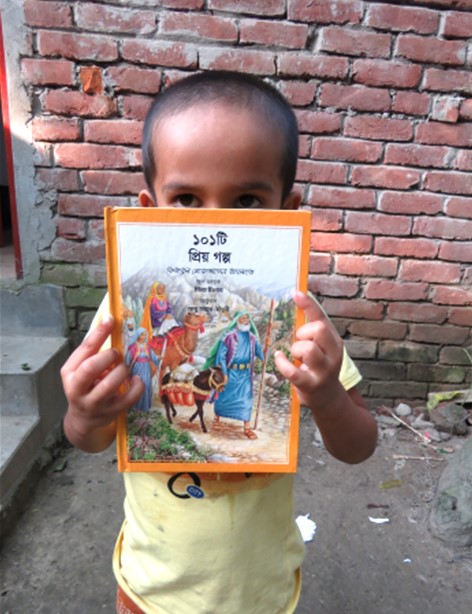 Young Jahangir holding a children's Bible
When Ashana* sent her four-year-old son Jahangir* to school, she knew he would encounter children who might look down on him. Everyone in their Bangladeshi community knew her family had left Islam and become Christians. In Bangladesh, only .06% of people are Christians, and converts to Christianity are often considered infidels—treated as inferior second-class citizens.
But Ashana didn't expect what happened that day. When her son ran into the house hours before school dismissed, Ashana was concerned. She asked why he was home so early. The young boy said his teacher had given him a day off from school. She told him to head home, he said, because there was no space on the class bench for him.
While Jahangir was excited about having a day off from school (like any kid would be), Ashana knew full well that space was not the issue.
When she and her husband met with Jahangir's teacher the next day to ask why their son was sent home for such a trivial reason, the teacher's blunt and unapologetic response was shocking.
"If the boy comes to the school and sits with other Muslim boys, then the Muslim boys might leave the school," the teacher said. "They will not want to sit on the same bench with a Christian boy during classes."
She asked Jahangir to leave the school because she was aware of the family background and that they had converted to Christianity.
Christian children becoming withdrawn
Every HK$310
could provide trauma counselling to a persecuted child, bringing hope and healing.
GIVE TODAY
Unfortunately, stories like this aren't anomalies in Bangladesh and other places around the world where following Jesus can be a risky decision.
For many young Bangladeshi Christians, especially children in families who converted from Islam, school is often a place of pain and persecution.
They can be bullied by teachers and their peers, causing them to lose interest in their studies and withdraw. And many feel like they must hide their faith, often growing up without fully embracing their identity as a follower of Jesus due to the persecution they experienced when they were young.
Without support or awareness of how to deal with problems at school, parents like Ashana have little recourse. The advice they receive is often futile: "Don't think about it," or "Because we are Christian, it [persecution] will happen and we must endure it." But when it's your child who's slighted and deprived of something as precious as an education, "enduring" is a difficult ask. Ashana knows this too well.
Thanks to your prayers and support, local Open Doors partners have been encouraging and praying for Jahangir and his family. Please pray for more opportunities to support families in similar situations who are struggling.
Pressures on converts increases
In October, a religious fundamentalist posted the personal information of 24 Christians on Facebook with provocative comments to protest their conversions. The post included believers' names, family information, contact numbers, and baptism dates.
The social media post read: "I am fortunate to be born in a Muslim family, I am proud... I will fight if necessary to protect the religion of peace, Islam. But I will not allow […] religious conversion… I demand these Christians' exemplary punishment. I expect strong protest from every Muslim." 
Immediately, the post went viral and stirred up anger in local non-Christians; Christians have been in a state of panic since the incident. They fear more persecution and attacks, especially when they go out as part of their daily routine.
Tensions are ongoing, says church pastor
"The news spread very quickly, and since this incident, I am afraid to go out freely,"
says Pastor Parvin, a Christian convert. "The other believers have limited their movements outside. Some of the believers have been stopped from going out of their homes by their non-believing family members."
Of the 24 affected people, 18 are members of Pastor Parvin's church. He took this matter to the local police and, thankfully, was able to have the post taken down from Facebook. 
But the anger of non-Christians, as well as the fear of Christians, has yet to die down; there is still palpable tension between both parties. Open Doors local partners are praying for this situation and looking into the needs of affected believers to find ways to best support them.
*Name changed for security reasons
For Jahangir and his family, that he will be able to flourish at school and that he will be rooted and established in God's love (Ephesians 3:17)
For Pastor Parvin and all believers affected by the Facebook post, that God will protect them and strengthen them
That Open Doors partners will be given wisdom and provision to support Bangladeshi believers in all situations of persecution.
Please will you give the gift of a safer childhood to a persecuted child this Christmas?

Every HK$310 could provide trauma counselling to a persecuted child, bringing hope and healing.
Every HK$460 could provide vital emergency food to three families affected by violent persecution.
Every HK$650 could give a year's education to a persecuted child, helping them have a brighter future.
my gift: children